A lot of players wondered about the language system in Farming Simulator 22 and how to change it.
The game is going to have languages like – Czech, Dutch, English, French, German, Hungarian, Italian, Japanese, Korean, Polish, Portuguese, Portuguese (Brazil), Romanian, Russian, Spanish (Spain), Simplified Chinese, Traditional Chinese and Turkish.
Follow steps below how to change the language for FS 22.
How to change Language in FS22 (Farming Simulator 22)
Steam
Here are some tips for you about how to change the language settings in Farming Simulator 22 for Steam. Just follow the steps given below:
The first step is to quit the game and then go back to Steam.
After you reach Steam, go to Library and Left click to FS 22.
Reach out to the Properties section, then go to Language. 
Now, in the language tab, select your choice of Language.
Re-launch the game. Now your language set will be changed in the game.
If you don't have Steam version of the FS 22, then follow the instruction below.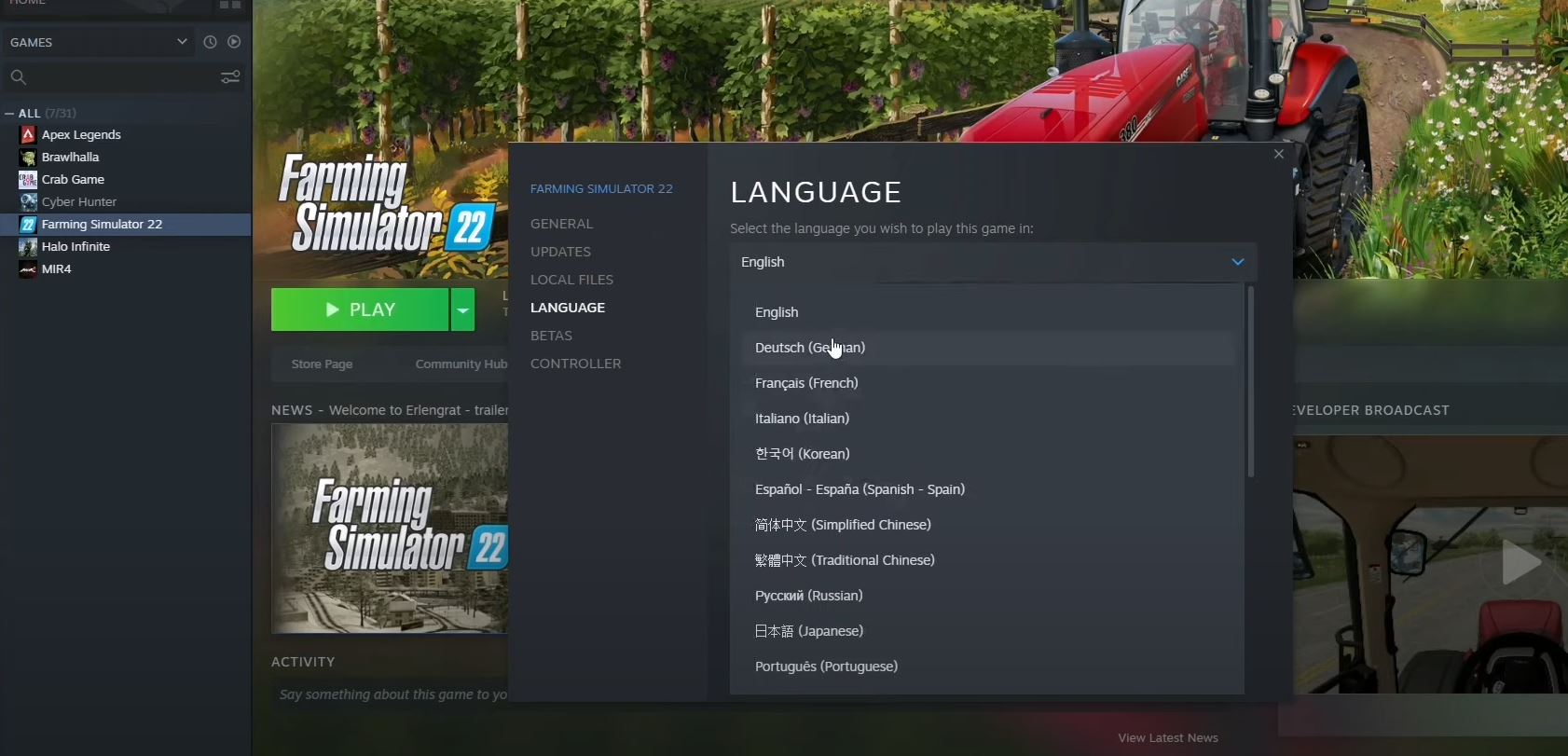 Changing Language in FS 22 to English or desired Language(video)
Some seasons will make their appearance in the game very soon. They will install a weather system as well. Even the wildlife of this game is improving. However, a lot of players wondered about the language system in Farming Simulator 22 and how to change it?
Watch the video above to learn changing language of FS22 in Steam
FS 22 Language Change (Non Steam Cracked Version)
If you have the Non-steam version pf FS 22 (crack), Follow the steps below to learn how to change the language:
Right click the icon of FS 22 and Open File Location.
In file location find "fit.ini" file (file location should be something like this: D:GAMESFarming Simulator 22 multiplayerx64 )
Open fit.ini file with text editor
Change "Language=english" line to desired language you want.
Save and exit.
Make sure the file is not "Read only"
If you downloaded the cracked version of FS22, watch the video below:
How to Change Language of FS 22 in Xbox, PS5 & PS4 Consoles
If you have a console that you bought FS 22 to play on it, changing game language might be a little bit tricky. Most games are synced with system language of the game consoles. So in order to change Farming Simulator 22 language on PS5, PS4 or XBox; you have to change system language to the language you want your game to be. This may sound disappointing but there is no other way  to change language so far.   
More information About FS 22
If you look at the development and advancement of simulation games in the recent few years, you will definitely see a high rise. There was a time when we as players did not prefer these simulation games much, but the time is different now. We mostly focus simulation games on our website as you might notice.
There are the likes of Euro Truck Simulator, the Farming Simulator, Stardew Valley, Rimworld, ARMA 3 and a lot more which have redefined what we earlier knew as regular simulation flicks.
One of such games that we love simulating is the Farming Simulator. It is undoubtedly one of the best and most addictive simulation games that we have come across. In fact, it is something that will make you fall in love with farming and business.
After the wild success of Farming Simulator 19, we now have the newest version of the game – Farming Simulator 22! The game is developed and published by Giants Software and is available to play for the PC, Xbox, PlayStation and Nintendo Switch users.
Frankly speaking, no one had ever expected that a farm simulator game would become such a huge success. But Farming Simulator 19 saw a huge surge in the number of players which was quite remarkable, so this is with the new version too!
In the game, you will take up the role of a modern farmer who has to creatively build his farm in a variety of ways. What is different in this new version of the game?
According to the developers Giants Software, they have revamped the complete game and have made it new. While the core tactics remain the same, we will see a lot of technical and graphical changes in Farming Simulator 22.
One of the major changes will be our beloved animals. For those who do not know, Farming Simulator is not only about farming and growing crops, it also revolves around farm animals and how you deal with them.
Farming Simulator has always focused on animal husbandry along with agricultural mechanics. And this time, Giants has gone ahead and given our furry friends "a lot cuter" look and has made them "more important than ever".
Other Guides for FS 22: