Layer one blockchain Avalanche acts as a platform for decentralized applications and blockchain networks. Aiming to dethrone Ethereum, the most popular blockchain for smart contracts, AVAX is one of Ethereum's competitors.
In this article, we will discuss Avax Coin in general and examine it in details, from its founders to its project and its technical analysis.
---
Table of Contents
---
Avalanche (AVAX Coin) Details
| | |
| --- | --- |
| Cryptocurrency Symbol | Avax |
| Market Cap | $6,306,416,465 |
| Circulating Supply | 266,371,100 Avax |
| Total Supply | 377,752,194 |
| All Time High | $144.96 |
| All Time Low | $2.80 |
| Official Website | AVAX |
---
What Is Avalanche (AVAX Coin) ?
Avalanche Avalanche is the platform of platforms. DAG (directed acyclic graph) is the data structure, Avalanche is the consensus protocol. With it, all types of digital assets can be spent by anyone. What makes it special is that it allows for multiple scripting languages ​​and multiple virtual machines. This means supporting a variety of nodes with different capabilities, resulting in a new spectrum of digital assets, capabilities, and capabilities.
The Avalanche Consensus is a groundbreaking consensus protocol that offers a hybrid solution between classic fast consensus and the Nakamoto model. It combines the advantages of both models into a new and powerful algorithm that can be scaled to thousands if not millions of participants and makes no demands on power consumption or hardware equipment.
There is a range of consensus protocols from the simplest to the most complex, starting with slush, snowflake, snowball and finally the directed acyclic graph (DAG) based Avalanche. The DAG structure is intended to increase the efficiency and security properties of the protocol.
The reason Team Rocket describes Avalanche as a new family of protocols is because of the idea of ​​metastability, a means of achieving consensus by guiding all nodes to an evolving consensus without leaders. A high level of safety is achieved at a fast pace.
It does this by taking small, random samples of sub-quorums from nodes in the network, allowing higher throughputs and parallel consensuses to run before eventually all nodes converge and converge over time to an overarching consensus.
---
Who Are the Founders of Avalanche (AVAX Coin) ?
Led by Cornell University Professor Emin Gün Sirer, one of the most respected thinkers in the crypto scene, and AVA Labs co-founders Kevin Sekniqi, Ph.D. at Cornell and Ted Yin, Ph.D. at Cornell, the blockchain project Avalanche was launched. The vision is to provide a powerful and flexible platform for all types of applications and networks.
Avalanche was first proposed in a whitepaper published on May 16, 2018 in an IPFS link by a pseudonymous group of developers called Team Rocket.
As a platform of platforms with a new type of consensus and high performance characteristics, Avalanche is intended to be a real blockchain 3.0. It could have the potential to take decentralized network technology to a new level.
---
Avalanche (AVAX Coin) Graphic, Chart Analysis
A pinched triangle appears in AVAX. In this triangle, it oscillates between the lower and upper bands. $70 is working as lower support, it is strong that there is a 10% profit return of $80 in the short term. In the long run, it would be useful to follow the compression.
This is a higher region than the region where it consolidated in the $55-$70 range from September 2021 to October 2021.
Accumulations in this area will bring sharper gains when it pushes us above $87.
Avax is currently can be staked in Binance and   the average APY is around %21.
(You can get these rates by locking in the Binance environment)
As shown on the chart below, Avax coin has been making lower lows so we can just recommend to wait and see a sideway and a solid support to buy this coin if you consider for long term.
Our golden rule is "never spend your all money on a coin".
Consider the war between Ukraine and Russia before buying anything that can effect crypto market badly.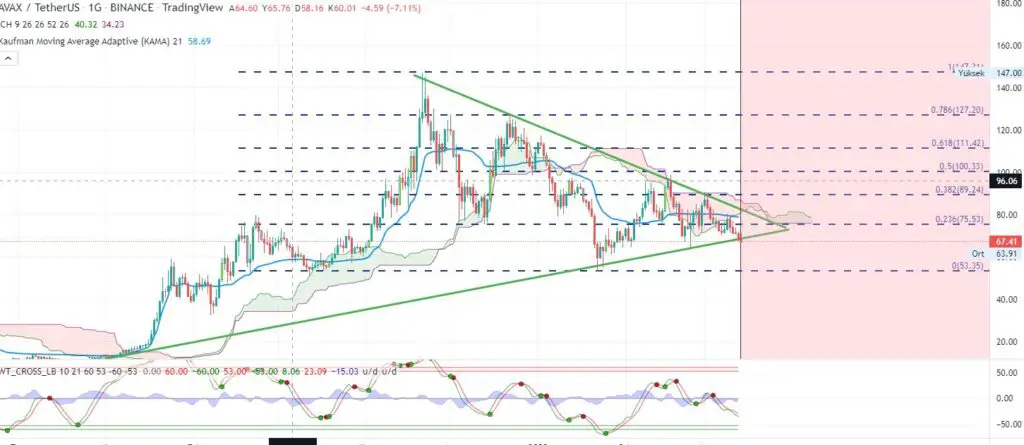 ---
Simplicity, high performance, and the ability to configure
The Avalanche network consists of thousands of nodes, is extremely scalable and very fast. Transactions only take 1-2 seconds. Programmers benefit from the high flexibility of the platform. It supports multiple scripting languages ​​and allows the implementation of privacy features from Zcash (zk-SNARKS) or Monero (ring signatures). The special attraction seems to be that subnetworks can be created simply by selecting existing nodes like. CEO Sirer describes the heterogeneous network Avalanche as a different universe.
The Avalanche blockchain combines the following properties:
very fast with thousands of transactions per second
very safe through thousands of knots
scalable to millions of nodes
very low cost transactions
Avalanche consensus as a hybrid consensus algorithm
staking and minting
flexible smart contracts
1-2 seconds global transaction times
flexibly programmable thanks to several available programming languages
easy to install sub-networks
Quantum computers for sure
"What sets Avalanche apart from other solutions is its simplicity, high performance, and the ability to configure it to adapt to different levels of trust," said Edward Tate, the founder of Tezos when considering using the network to optimize Tezos.
With Ethereum, a network that emerged from a friendly fork of the Ethereum blockchain has already started as a subnetwork on Avalanche. Ethereum is overcoming Ethereum's scaling problems, which Buterin's team is still working on intensively. Bitcoin Cash wants to use Avalanche to optimize transaction performance.
---
Where can the Avalanche (AVAX Coin) be bought?
The token can be purchased on the largest cryptocurrency exchange "Binance" since 2018. Getting in early and a lower price allows for big profits but also carries a risk of loss. Act sensibly.
We recommend buying cryptocurrencies on Binance.com
---
Avalanche (AVAX Coin) Price Prediction video explanation
Check out our other altcoin analysis and reviews:
---
Not Investment Advice
The information provided in this article is intended for general guidance and information purposes only. Contents of this article are under no circumstances intended to be considered as investment, business, legal or tax advice. We do not accept any responsibility for individual decisions made based on this article and we strongly encourage you to do your own research before taking any action. Although best efforts are made to ensure that all information provided herein is accurate and up to date, omissions, errors, or mistakes may occur.
Disclosure: Authors are invested in cryptocurrency projects and have cryptocurrency holdings – including those covered on this website.