Elden Ring is an action role-playing game (RPG) that will be similar to FromSoftware's previous Dark Souls games. This likely means that there will be a core emphasis on dodging while using melee and magic attacks to take down foes.
Finding new weapons and armor, upgrading gear, leveling up skill points, and the implementation of both cooperative and competitive PvP play is also expected. Something that will set Elden Ring apart from Dark Souls, though, is its non-linear, open-world design.
In terms of story and world, Elden Ring will take place in a fantasy universe and is focused primarily on the Elden Ring, which is a concept that encompasses the entire world. Much of Elden Ring's mythos is being authored by George R.R. Martin of A Song of Ice and Fire/Game of Thrones fame.
We also write a detailed overview of Elden Ring. You might want to check our article for important tips and tricks before starting Elden Ring.
Elden Ring Release Date delay, platforms and price
After all that waiting without anything to even subsist on, we learned earlier this year that the Elden Ring release date was originally set for January 21, 2022.
However, in October, the game was delayed to February 25, 2022.
In a tweet posted on October 18 from the Elden Ring account, the developer stated: "Important message: ELDEN RING will release on Feb 25, 2022, as the depth & strategic freedom of the game exceeded initial expectations."
The game will be available on PS4, PS5, Xbox One, Xbox Series X, and PC.
If you pre-order Elden Ring on the Xbox One or PS4 you'll get a next-gen upgrade included for free. The game retails at £59.99 in the UK and $59.99 in the US.
FromSoftware shared the pre-order details for Elden Ring. First, there's the collector's edition, which will include the game, a steelbook, a 40-page art book, a digital soundtrack, and a 9inch statue of Malenia – Blade of Miquella.
Then there's the premium collectors edition, which includes the aforementioned items, along with an official helmet replica of Malenia.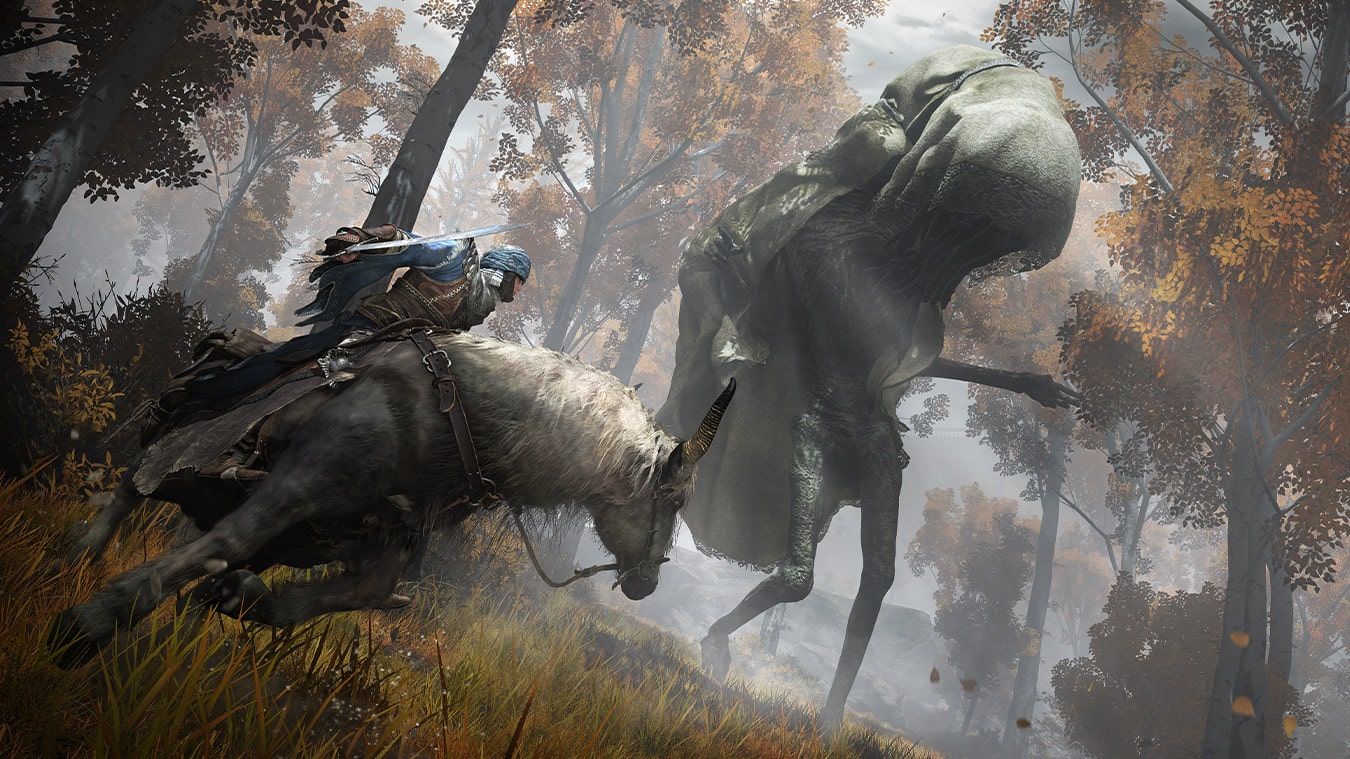 What's new in Elden Ring?
Elden Ring definitely feels like Dark Souls, but FromSoftware are pulling a few new tricks too.  Here's the short version on what's new:
Open world: Elden Ring is an open world with six main areas to explore
Jumping and riding: You can jump and fight on horseback
Guard Counter: Attacking immediately after blocking, separate from Parrying
World map: A drawn map where you can place your own markers
Elden Ring – 15 Minutes of Gameplay
In early November, Bandai Namco shared a brand new look at Elden Ring via 15 minutes of gameplay, featuring our first glimpses of open-world exploration, mounted combat, and more (you can read much more about all of those things below).
The gameplay preview, which featured footage captured on a PC build still in development, presented fans with a first look at the Lands Between, and gave us more of an insight into what we can expect from the game when it launches in 2022.
First, we were shown what will act as the game's resting points called Sites of Grace as well as a mount, which can be called wherever players are in the land.
While the protagonist explored, they came across a dragon that dropped right in front of them. Mount combat was confirmed to be a feature, and players can use a magic staff, as well as a bow to launch attacks. The video also featured melee combat with a greatsword, along with a look at the weapon's finishing move.
Check out the video below.
What to expect from Elden Ring gameplay
In Elden Ring, fans can expect an RPG-oriented experience similar to Demon's Souls, Dark Souls, and Bloodborne instead of the pure focus on action that Sekiro: Shadows Die Twice had. This is because Miyazaki himself stated that Elden Ring's gameplay "is not so far from Dark Souls."
"That doesn't mean that the gameplay will be identical, but you could say that Elden Ring belongs to the same genre," he said. We also know that the game will be challenging like Dark Souls based on comments Miyazaki made in an Xbox Wire interview, and will feature plenty of big boss fights too.
Additionally, Miyazaki revealed that Elden Ring will be open-ended and non-linear in nature, almost like an open-world game.
"While the narrow and complex dungeons of our previous games were indeed interconnected, Elden Ring's environments will be much more open and vast," Miyazaki commented. "The more extensive world will form the base of Elden Ring's gameplay, and its mechanics are designed with that type of environment in mind."
He also stated that "with a larger world, new systems and action mechanics inevitably become necessary. In that sense, I think that Elden Ring is a more natural evolution of Dark Souls."
All of these traits, features, and mechanics are observable in the E3 2021 gameplay trailer. In this trailer, many Dark Souls mechanics such as dodge rolls, melee combos, magic spells, player summoning, and more were shown. However, the trailer also showed off Elden Ring's horse gameplay, which is likely going to be integral to long-range exploration and some combat scenarios. There was even a brief moment in the trailer where the Tarnished used stealth tactics, indicating that a stealth system similar to the one in Sekiro: Shadows Die Twice is likely making an appearance in Elden Ring.