The Gunlancer is the real tank class in Lost Ark, but it does it in a pretty badass way, with some big-hitting attacks and generally a pretty satisfying style of play. The other support class is Bard. Check our Bard guide here.
As the first line of defense, Gunlancers take the brunt of enemy attacks with their defensive stance and battlefield shield to keep the rest of their party safe. While their gun lance is a formidable weapon, their true value derives from their ability to protect allies and absorb damage like a sponge.
You may want to check our beginner guide for tips and tricks before starting the Lost Ark as well.
Gunlancer (Warlord) Class Pros and Cons
Pros
Heavy tank character, one of the best, if not the best in Lost Ark
Big burst damage
Versatile
Can soak up a lot of damage directly from the boss
Cons
Slow, lacks mobility
Pretty straightforward playstyle – you might find the 'sit there and eat damage' playstyle a bit dull after a while
Has a backward jump rather than a forward dash (the spacebar dodge)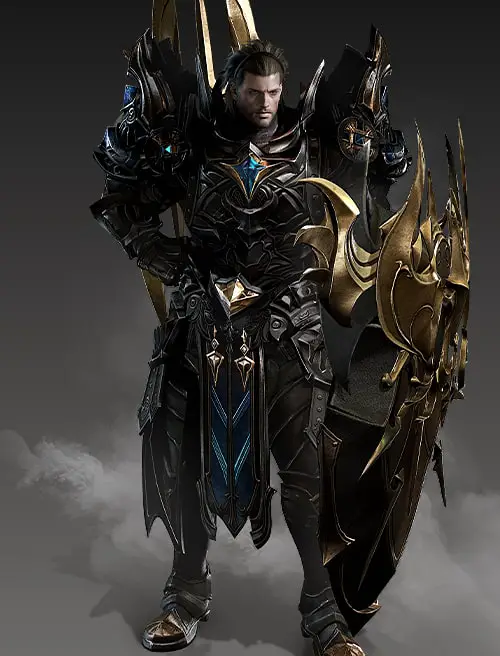 Gunlancer (Warlord) Class Best PvE build
A well-rounded Gunlancer PvE build is all about maximizing tanky stats, while also providing you with the tools to dish out a hefty amount of damage when the time is right. Not only that, but it'll also allow you to draw the attention of nearby enemies with taunts, preventing your more vulnerable teammates from being focused.
The best Lost Ark Gunlancer PvE build is:
Skill
Points
Tripod 1
Tripod 2
Tripod 3
Fire Bullet
10
Lucky Chance
Enhanced Strike
Attack Creation
Dash Upper Fire
4
Ready Attack
Gunlance Shot
10
Tenacity
Enhanced Strike
Exploding Spear
Counter Gunlance
4
Ready Attack
Charged Stinger
10
Weak Point Detection
Overcharge
Focus Fire
Bash
4
Armour Destruction
Shout of Hatred
10
Quick Prep
Shield
Open Weakness
Nellasia's Hatred
10
Quick Prep
Effectiveness
Survive
If you're still not maxxed out on skill points, you should prioritise the following skills:
Fire Bullet
Gunlance Shot
Charged Stinger
Shout of Hatred
Nellasia's Hatred
Gunlancer (Warlord) Class Best PvP build
Monsters and creatures are all well and good, but what if you want to take down other players with the Gunlancer in PvP? Well, that requires a slightly tweaked build that puts more of a focus on the class' offensive abilities.
In order to maximize your PVP strength, here are all the skills you'll need.
Skill
Points
Tripod 1
Tripod 2
Tripod 3
Surge Cannon
10
Piercing Shot
Precise Barrage
Focus Fire
Dash Upper Fire
4
Excellent Mobility
Gunlance Shot
10
Tenacity
Enhanced Strike
Exploding Spear
Counter Gunlance
10
Ready Attack
Quick Prep
Lightning Strike Spear
Hook Chain
10
Quick Prep
Shackles
Wide Hit
Bash
10
Armour Destruction
Ready Attack
Echo
Shield Charge
10
Quick Prep
Wide Hit
Unending Attack
Nellasia's Hatred
10
Quick Prep
Effectiveness
Survive
Gunlancer (Warlord) Class Build: Best Engravings
As a tank class, the Gunlancer has a great Engraving choice in Combat Readiness. It's a damage engraving, sure, but it provides these damage bonuses while in defensive stance, something you'll be doing a lot as a tank!
It buffs your normal skills damage by 20%, your shield amount by 30% in defensive stance, and your damage by 4% when hit in defensive stance for a short time.
In PvE the benefits of this are obvious, it allows you to deal more damage while holding the attention of bosses and the like. In PvP, you can survive assailing players while keeping your own counter attack strong.
Additional Engravings that should be used with the Gunlancer are as follows (all showing level three effects):
Master Brawler: Increases your damage to the head (the front) of enemies by 25%
Grudge: Increases damage against bosses and higher-leveled enemies by up to 20% and decreases damage taken by the same amount.
Gunlancer (Warlord) Class Best Card Deck
The best card deck for Gunlancer is the Farewell, Weapon 6-piece set, which grants a huge amount of max HP when equipped in full. This set does the following:
2-piece: Max HP + 4%
4-piece: Max HP + 4%
6-piece: Max HP + 4%
Gunlancer (Warlord) Class Best Runes
The main runes you want for your skills are primarily damage and cooldown reduction runes. These runes are important for your playstyle, which means you get to do damage more often and do more of it.
The other gems you want are charged runes. These make it so you can increase the charge speed of your charge up skills mentioned above.
Gunlancer (Warlord) Class Best Awakening Skill
The obvious Awakening Skill for a tanky Gunlancer build is Guardian's Protection which increases your shield metre by 100% and sends out a protective aura This aura stuns enemies inside it, and provides a damage reduction buff to allies too!
Gunlancer (Warlord) Class Lost Ark Guide (2022) – How to Build a Gunlancer