Since 2008, the Farming Simulator series from the Swiss developer team GIANTS Software has delighted gamers all over the world.  FS 19 edition released in 2019 hit the million sell just 10 days. With FS 22, the official successor is now on the market, which, among other things, enables cross-platform adventures (PC, PlayStation, and Xbox) with up to 16 players.
We'll show you how to create your own FS 22 server to take care of livestock, timber, and field work online, together with your friends.
How to host a multiplayer session in Farming Simulator 22.
In order to create a multiplayer session in the game, you need to head into the multiplayer option in the main menu of FS 22.
Click on "create game" and then click on Continue.
From here on, we need to choose a game save slot, choose the empty one, and continue the game to "Farm Manager" or "Start from Scratch", then choose your preferred map and hit continue.
You'll be directed to the Mods/DLC window, and select the ones the others are playing with on the server, choose your mods and then click on continue, and then go back and click on show all mods for all platforms and hit continue.
Don't forget to choose common mods all players have, otherwise they can not join your game.
In the multiplayer menu, type in your game name, password, and allow crossplay to "on" or "off", you can also set the max player to any number you want, auto-accept (user preference), and then click on "Start". The game will take some time to connect to a server. Simply wait for the game to load up and click on "Start", and then you'll be sent to the character customization menu. Create your character and allow everyone to join in and they will be sent to the map.
In the map, you can create your own farm and set up your email and password, color, and logo of your farm and then click on "Create Farm", scroll down to the icons until you see the "Farm Management" option. In this menu, many people can talk to you and it's up to you whether you want to give them permission to allow the activities on the right side of the screen.
Under the settings option of FS 22, scroll down to "General Server Setting", where you can change the name, password, and max number of players up to 16, auto-accept, and click on Save. Unlike renting a server, once you're hosting a dedicated session and if you decide to save and quit the session, others will also get kicked off from the session. This is free and you don't have to pay a fortune to play.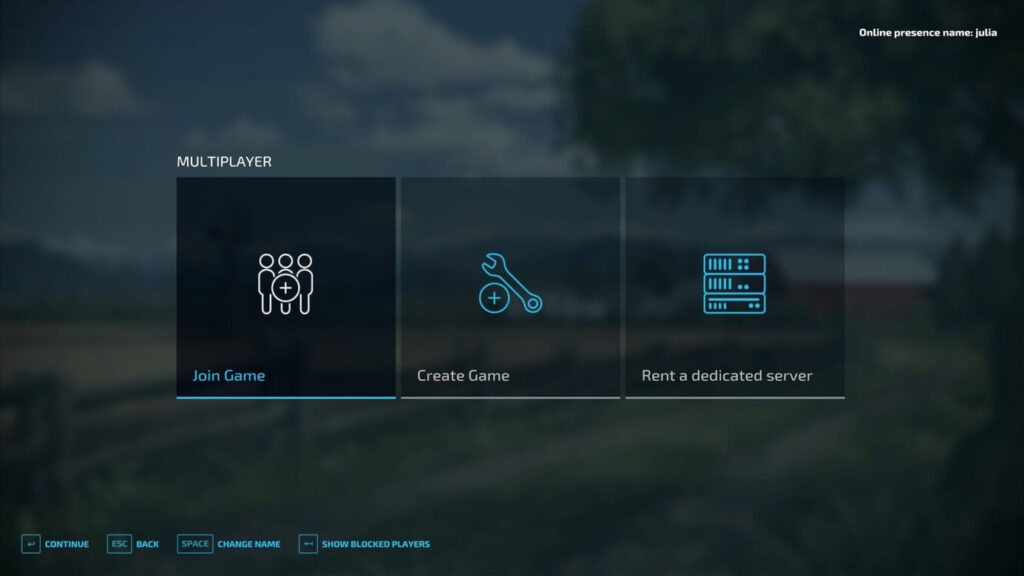 Hosting A session in Farming Simulator 22.
Your own FS 22 server has a decisive advantage over freely accessible community servers of other users. You get to determine all important key data for the server yourself, such as the maximum number of players, the cross-play status (on or off) or permitted modifications. You have two options for hosting your own FS 22 world:
Create and host the game directly on your own PC.
Create and host the game on external server hardware from a provider of your choice.
If you select the first option, you won't need to use an external solution. You'll create and host the Farming Simulator 2022 server on your private PC via the game client. Server and storage data are located locally on your hard disk. However, hosting puts additional load on your device – consequently, for a server with 16 people you'll need a high-end PC. In addition, all users can only play on the server when you are online. If you don't want to run your device permanently and drive up the electricity bill, you have to agree to fixed playing times.
Farming Simulator 22: what are the demands for a FS 22 server?
To run a dedicated server for FS 22, you don't have to meet increased system requirements of the game itself. The server software uses a lot less power. GIANTS Software officially recommends the following minimum hardware setup:
2.4 GHZ processor (Intel or AMD)
2 GB RAM
35 GB free hardware storage
Compared to the predecessor edition FS 19, the only thing to note in terms of dedicated servers is the higher requirement for free hard disk space. However, keep in mind that the presented values are only the basic requirements for running the FS 22 server. More power, especially RAM and hard drive space, is essential for active operation should multiple players connect to the game simultaneously. The same applies if you want to use DLC content for the server.
 Tip
Getting a server with SSD storage has the advantage that loading times are greatly reduced. Backups can also be created faster with an SSD hard drive.
All common Windows systems from Windows 7 or Windows Server 2008 are suitable operating systems. Ensure that you're using a 64-bit architecture. Native support for Linux is not provided which is why you can only run a server for Farming Sim 22 under Ubuntu, Debian, etc. in a roundabout way – for example, by using the runtime environment WINE – to get running. Note that you also need to plan for hardware resources for the operating system. For example, for Windows Server 2016, these are a 1.4 GHz processor, 512 MB or 2 GB of memory (without or with graphical interface, respectively), and 32 GB of hard disk space.
 Note
Similar to a FS 19 server you have to purchase a license for a FS 22 server. Even if you already own the game, you'll need to buy it again for the server, because otherwise you won't be able to play it yourself. The same goes for DLCs, which you also have to buy for both the server and the client.
Setting up a Local MultiPlayer Session from a savegame in Farming Simulator 22
Other Guides for FS 22: