Forestry also plays a major role in the FS 22 and you can plant and cut trees diligently and process or sell the wood in various ways. Forestry is actually a little bit harder than other things in FS 22. At this point, we will tell you everything you need to know about forestry.
We understand that it can be a bit daunting on remembering how to do all of these operations, so in this article, we will cover the guidelines of how to sell wood chips in your Farming Simulator 22.
How to Cut Down Trees in FS 22
Every tree can be cut down with a chainsaw. However, it's worth noting that only spruce and pine can be cut down with a harvester like the Rottne H21D, which is the best harvester for anything forestry. The other two available harvesters can struggle with fully grown spruce trees.
How Long Does it Take Trees to Grow in Farming Simulator 22?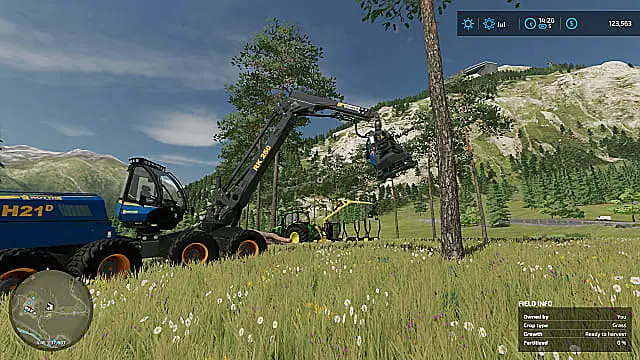 The short answer is that most trees take 2.5 years to grow and reach their largest size in Farming Simulator 22. That excludes poplars, which take 16 months to fully mature, and aren't the best choice for those focusing on forestry.
Some maps have more trees available than others. So if you want to focus on forestry, we recommend you to start your gameplay on a map with a big forest. You can also check out our 5 Best Maps in FS 22 post.
Farming Simulator 22 Trees List & Yield by Type
If you're wondering what trees you can grow on your land to start your forestry industry in Farming Simulator 22, the list is pretty expansive. There are 12 tree types and are listed with the average height and liter output:
Pine: 32m | 6300L
Stone Pine: 26m | 14,000L
Spruce: 34m | 8200L
Birch: 13m | 2300L
Oak: 15m | 12,000L
Willow: 8m | 3700L
Maple: 12m | 6200L
American Elm: 17m | 21,000L (these are challenging to log)
Pagoda Dogwood: 8m | 600L
Shagbark Hickory: 20m | 9000L
Cypress: 13m | 500L
Downy Serviceberry 7m | 300L
Of the spruce and pine, spruce has, on average. a slightly larger yield than pine trees, but they are far from the highest producing trees. The American elm tops the forestry charts with an average of 3x more useable wood than the spruce.
Willow, dogwood, cypress, and the downy serviceberry should be avoided as they have incredibly low yields.
FS 22 Cutting Trees Tutorial
How do you get wood on Farming Simulator 22
We want you to show you a few ideas on what to do with these trees:
Cut down the tree you want and remove the biggest branches. Then, use a tractor to move the tree;
Cut the trees into smaller pieces and use the crane to load them;
Chop the trees into firewood and load onto any trailer by hand;
Utilize wood chip machine to make a lot of wood chips;
Look for Straight trees
It probably makes sense to you as well that having straight trees is the best thing you can have. Why do you ask? Because the form of the tree is so good that you don't need to cut them at all, they are good as they are. Actually, you can get the best value if you sell in one, long piece, so we advise you to just get selling them as they are!
Don't forget that actually, you are able to choose how to sell your trees. It can either be long pieces of wood that you chopped or alternatively you can sell unchopped pieces. If you are not sure which way to take, you will need to first check out your machinery and tools. It all can depend on what tools you already own and if they can help you chop or not. We will let you know now a bit more information about which machines you need for each task.
Remove tree stumps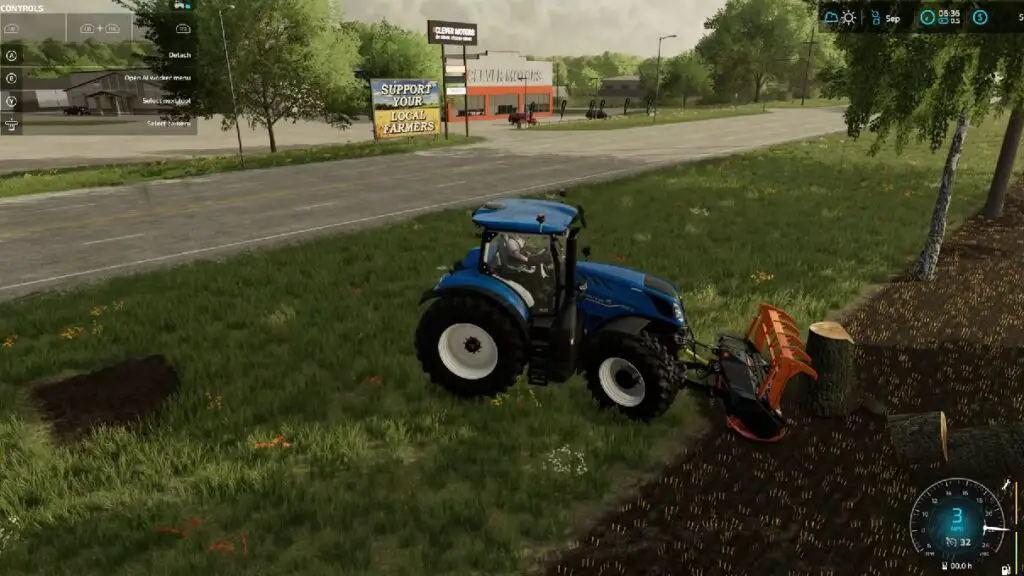 After the timber is harvested, unsightly tree stumps are left behind. You can remove these with a milling machine. Mount a tiller on the back of your tractor and remove the tree stumps accordingly.
Our other Guides on FS 22: